Royal Canadian Legion
Leslie Sutherland Br
447
Corunna, Ontario
| | The Corunna Legion website is under construction. | |
| --- | --- | --- |
Some features are not currently available.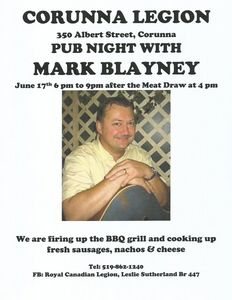 June Pub Night: Saturday, June 17th
With Mark Blayney
6pm to 10pm
Pub Grub from the BBQ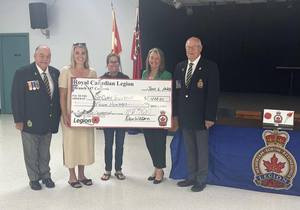 Facebook Posted: Thursday, June 8th
Corunna 200

Another one of our amazing sponsors!
Not only has the Corunna Royal Canadian Legion, Leslie Sutherland Branch 447 - Corunna,Ontario stepped up to host breakfast on Sept. 23, they have sponsored part of the wagon rides!
Your support is appreciated.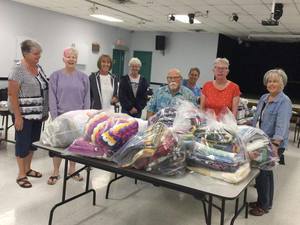 Facebook Posted: Wednesday, June 7th
Corunna Legion Sew Crazy Girls are donating the following, 48 Quilts, 53 Bags, 30 Pillowcases, 106 Hats, 57 Baby mittens to Ronald McDonald House in London.

Thank you Ladies and Gentleman for another job well done.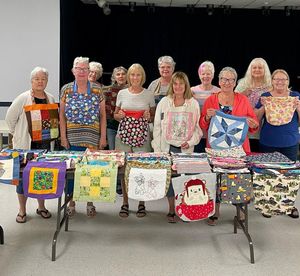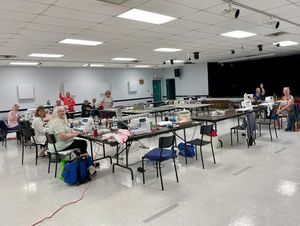 Photos from Literacy Lambton's post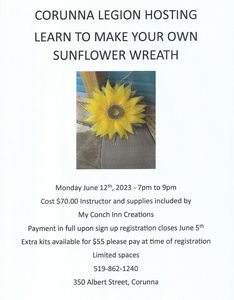 Crafts Workshop:
Monday June 12th 7-9pm
Hands-On Craft Workshop
Make your own Sunflower Wreath
ALL WELCOME - BUT LIMITED SPACES!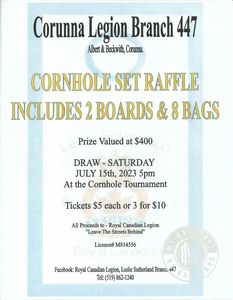 Cornhole Raffle:
Prize Valued at $400
Prize will be drawn during the July 15th Cornhole Tournament
TICKETS ON SALE NOW!!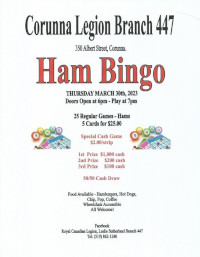 Ham Bingo: Thursday, March 30th
Doors Open: 6pm, Eyes Down 7pm.
25 Regular Games (hams), 5 cards $25.
Bonus Game, $2 per strip. ($1000, $200 & $100).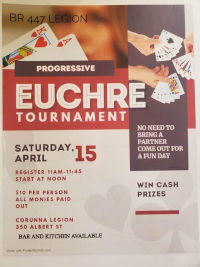 Progressive Euchre: Saturday, April 15th
Reg. 11-11:45am Play @Noon
$10 per person.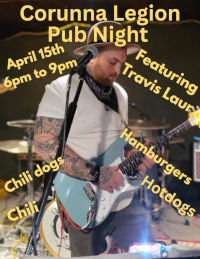 Pub Night: Saturday, April 15th
Second Pub Night, check calendar for future dates.
With local musical talent for April Travis Laur
Music from 6pm to 9pm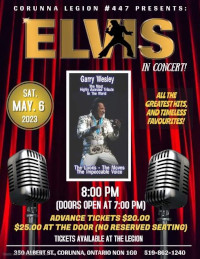 ELVIS!: Saturday, May 6th SOLD OUT
Elvis Tribute concert.
All the Greatest Hits & Timeless Favourites
Doors Open 7pm, Show 8pm
Tickets on sale April 1st $20
Tickets at the door $25 - No reservations, limited seating.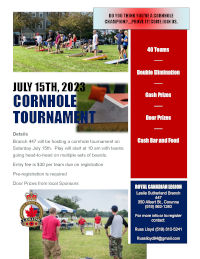 Cornhole Tournament: Saturday, July 15th
40 Teams. Double Elimination.
10am Start, Cash & Door Prizes.
$30 per Team, Pre-registration Required.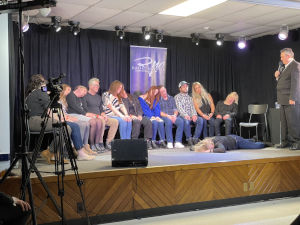 Robert Maxwell: Saturday, March 4th
Fantastic fun turnout for Comedian, Magician and Hypnotist Robert Maxwell.
Entertainment, laughs and all round family fun night.
Huge thank you for those attending making the event a success, and an even bigger thank you to those on-stage star "volunteers" who prvided such wonderful entertainment.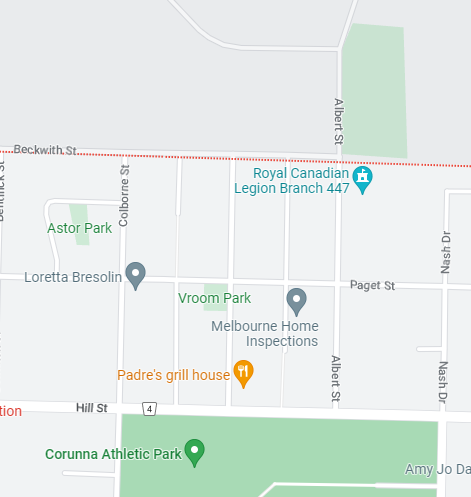 350 Albert St, Corunna, ON N0N 1G0
519-862-1240
Opening Time Mon-Sat noon-10pm
Closed Sunday and Holidays
(except special events)

Facebook
Passings
Regular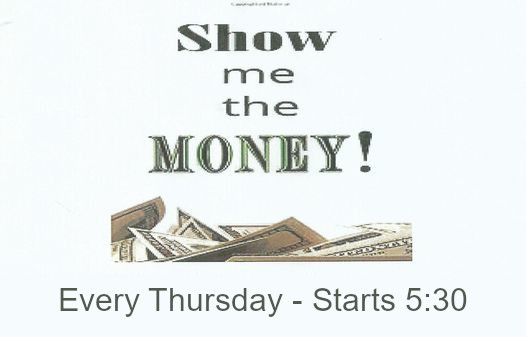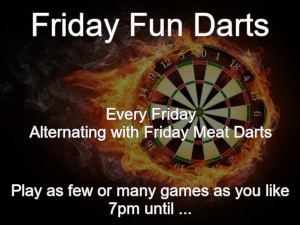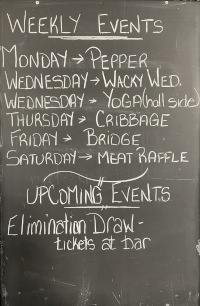 Promotional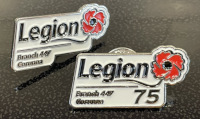 Promote your branch: Branch pins available from the bar - $5 each
Events
Find Local Events (Future)
Veterans
ATTENTION VETERANS Acting Provincial Service Officer, Brittany Campbell, will be visiting Sarnia Branch 62, during the week of MARCH 8TH – 10th 2023. If you need to talk to the APSO, please call the Branch Service Officer at Corunna Legion, Branch 447 - (519) 862-1240 to add your name to her itinerary - No later than 17 FEBRUARY 2023.
IMPORTANT NOTICE
Miscalculation of Disability Pensions Class Action Notification
This communique will be of interest to those of you who are receiving (or have received) a disability pension from VAC. (Eligibility also includes families of deceased veterans.)
Each year, as required by the Pension Act, Veterans Affairs Canada (VAC) calculates annual increases in monthly disability benefits to account for inflation. Through this certified class proceeding, Class Counsel has identified several errors in VAC's calculations. These alleged errors date back to 2002. Many to whom this may apply believe that they will automatically receive compensation. Regrettably, this is not correct. The good news is that VAC has settled in favour of the complainants; the bad news is that the claimant registration process closes on 31 Mar 23.
To Read the details go Here: Miscalculation of Disability Pensions Class Action
Support for Veterans: Support for veterans is available at all levels within the organization
Click here for options.
Or contact Corunna Legion and make an appointment to see our local Veteran's Service Officer. 519-862-1240
Calendar
June 2023
Sun
Mon
Tue
Wed
Thu
Fri
Sat
31

Wed Wednesday

No events
7

Wed Wednesday

No events
14

Wed Wednesday

No events
15

Thu Thursday

No events
21

Wed Wednesday

No events
28

Wed Wednesday

No events
29

Thu Thursday

No events
5

Wed Wednesday

No events
(Hover for Details)
July 2023
Sun
Mon
Tue
Wed
Thu
Fri
Sat
28

Wed Wednesday

No events
29

Thu Thursday

No events
5

Wed Wednesday

No events
12

Wed Wednesday

No events
13

Thu Thursday

No events
19

Wed Wednesday

No events
20

Thu Thursday

No events
26

Wed Wednesday

No events
27

Thu Thursday

No events
2

Wed Wednesday

No events
Jun 6: Obituary of Nancy Ann Miller | Denning's of Rodney
It is with heavy heart we announce the passing of Comrade Nancy Miller, a devoted and proud member of The Royal Canadian Legion, volunteering in many ways including Deputy District Sports Officer and Zone Commander. Our condolences to the Miller family and friends. Visitation will take place at Denning's of Rodney on Friday June 9th from 4-7 with a Legion Memorial Service at 7:00 p.m.
Miller Peacefully, with her loving family at her side, Nancy Ann Miller passed away at University Hospital, London on Friday, June 2nd, 2023. Nancy was a well known and well loved member of the West Elgin community. She was a devoted and proud member of the Royal Canadian Legion, serving in many dif...

Hall Rental
Reserve Your Hall Rental (Future)
Please call the branch during business hours 519-862-1240
Opportunities
Hiring Employment opportunities for permanent parttime bartender.