Royal Canadian Legion
Leslie Sutherland Br
447
Corunna, Ontario
| | The Corunna Legion website is under construction. | |
| --- | --- | --- |
Some features are not currently available.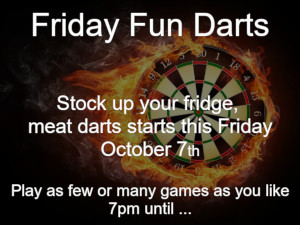 Friday Meat Darts: Friday, October 7th
Friday meat darts starts this Friday.
Play as few or as many games as you like. Random draw for partner each round, great for 'meating' new friends.
Prize for each round and super-prize for champions round.
All abilities welcome. Starts 7pm until 11ish.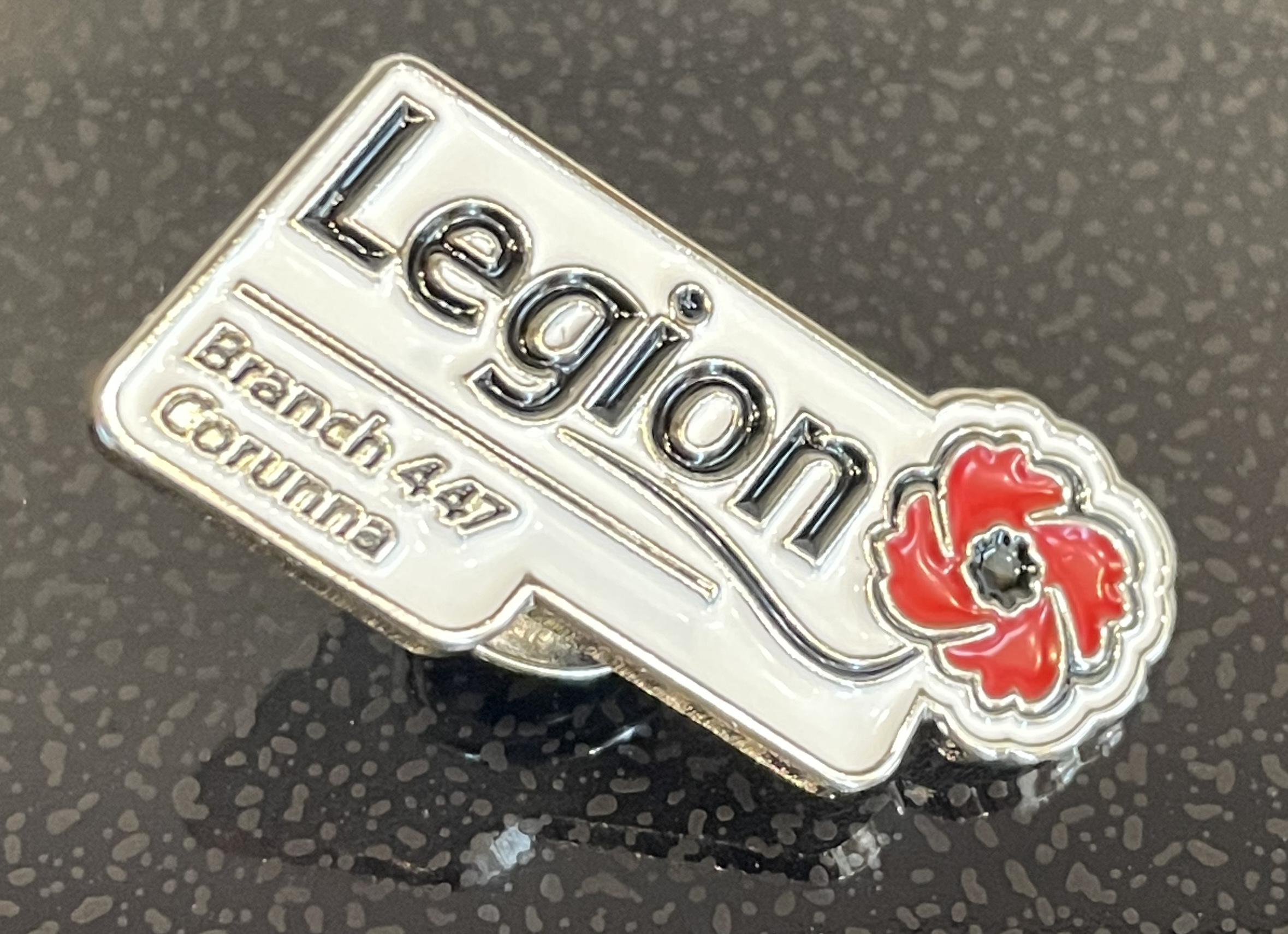 Branch Pin:
Branch 447 has released a new branch lapel pin.
The new pin proudly displays the branch identity, conforms to the current Legion logo guidelines and replaces the previous sold out pin.

Available now only at the Corunna branch. ($5)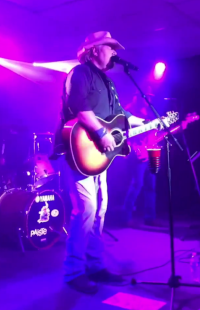 Toby Keith Tribute: Saturday, September 24th
A sold out crowd attended our Canadian Tour Ending Toby Keith Tribute Concert for an evening of stomping country tunes.

Supporting band, joined by long time country music star & honoree Brian Moon, played two sets and a further two with 'Toby' before cheering concertgoers.

'Toby' also presented a band signed t-shirt for auction raising $200 in support of local veterans, much appreciated by all.

Branch 447 thanks all the attendees and volunteers for supporting our events.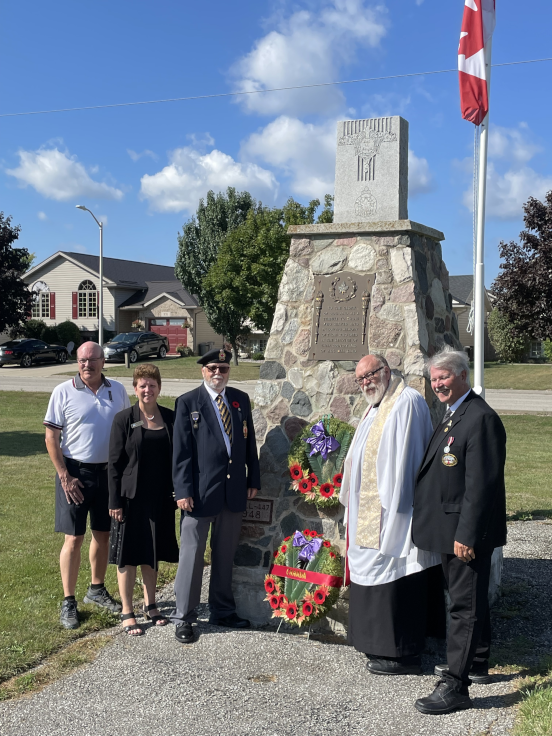 Memorial Service: Monday, September 19th
The Royal Canadian Legion, Br. 447, Corunna,
Memorial Service for Queen Elizabeth II

A single wreath was laid in Remembrance of Her Majesty.

Branch President Eric Hancock is shown here with Rev. Paul Woolley, Mayor Steve Arnold and Councillors Pat Brown and Tracy Kingston.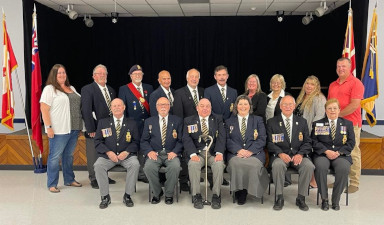 Introducing Br447 Executive:
22/23 executive members were installed July 7th consisting of:-

Front Row L - R: John Cormier - Immediate Past President, Eric Hancock - President, Shawn MacNeil - 1st Vice President, Karin Pennington - 2nd Vice President, Dan Watson - Treasurer, Marg Emery - Secretary.

Back Row L - R: Vanessa Barnes - Public Relations Officer. Carmen Martin - Executive at Large, Bob Chambers - Sergeant at Arms, Jon Neely, Malcolm Boczek, John McKechnie, Joanne Derry, Lyn Boczek Executive at Large, Ashley Rodgers - Sports Officer, Russ Lloyd - Sports Vice Chair.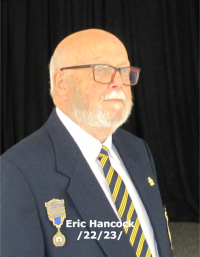 President Eric Hancock: (right)
View All Presidents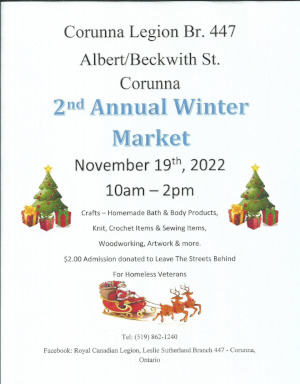 Nov-19
Winter Market & Craft Sale:
Saturday Nov. 19th.
10am - 2pm. $2 Admission donated to Homeless Vets - Leave the Streets Behind
350 Albert St, Corunna, ON N0N 1G0
519-862-1240
Opening Time Mon-Sat 12-6

Facebook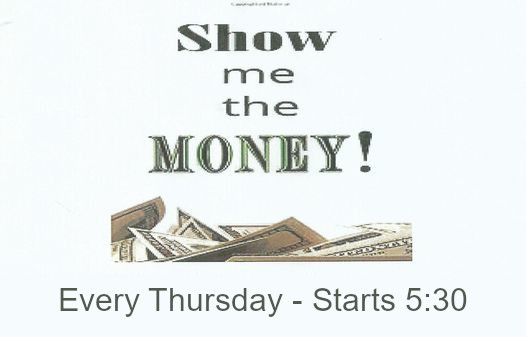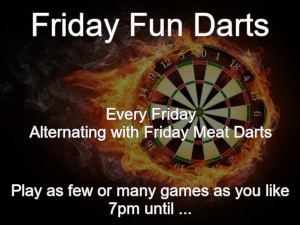 Events
Find Local Events (Future)
Veterans
Veteran's Affairs (Future)
Meetings/Events
October 2022
Sun
Mon
Tue
Wed
Thu
Fri
Sat
(Hover for Details)
November 2022
Sun
Mon
Tue
Wed
Thu
Fri
Sat
2

Wed Wednesday

No events
9

Wed Wednesday

No events
12

Sat Saturday

No events
16

Wed Wednesday

No events
23

Wed Wednesday

No events
26

Sat Saturday

No events
30

Wed Wednesday

No events
7

Wed Wednesday

No events
10

Sat Saturday

No events
Hall Rental
Reserve Your Hall Rental (Future)
Please call the branch during business hours